8 IN 1 Multifunctional Ultrasonic Cavitation RF Multipolar RF Vacuum Cavitation Lipolaser Slimming Machine
8 IN 1 Multifunctional Ultrasonic Cavitation RF Multipolar RF Lipolaser Slimming Machine

Working theory
1.Bipolar rf ,tripolar RF,Multipolar RF ,8 polar vacuum RF
Dissolve the fatness,do lymph drainage ,skin tightening ,enhance skin elasticity.
It takes the most advanced RF technique and energy, directly penetrating into deep cellulite.With targeted oriented RF output , it makes the fatty cells in quick active state ,produces heat friction ,and higher cells' temperature. Through the sweat gland,liver sausage circulation and lymph,exhaust the redundant fatness and toxins out of the body ,so get the effect of cellulite dissolving.
2. 40K ultrasonic Cavitation: Mightily cracking the cellulite, removing fat.
40 KHz ultrasonic cavitation after entering the body, will make the fatty cells produce mighty cracking effect and fatty cells friction, effectively exhaust the heat energy, exhaust cells water, let fatty cells shrinking. Moreover, when the ultrasonic vibrates, there will bring mighty impaction among cells, fatty cells will be less, so get effect of fat removal.
3.Lipolaser
Lipolaser,also knows as soft laser,cold laser or low level laser therapy,uses red light 650nm laser energy to penetrate the skin,when the fat cells are simulated,the cell membrane will create the pores to release fatty acids and glycerol.Feedback shows,with exercise or the infrared therapy,the fat cells will be burnt or drained by the lymph circulation.
1.Tighten the flabby skin
2.Repair striate gravid arum,Cellulite treatment
3.Eye:erase fine line,remove under-eye dark circle
4.Slimming:face and body,lose weight
5.Effectively cure the orange peel skin on buttock or thigh, solve the problem of the flabby
abdominal skin after procreating or liposuction
6.skin rejuvenation,stimulate the regeneration of collage,tighten skin
7.Promote metabolism
8.Improve blood circulation and Lymphatic Treatment
9.Improve skin texture
Features

1. Free operation, . non-anaesthetic.
2. No ruggedness.
3. No bleeding, tumidness and bruise.
4. No side effects, good effects, no rebounding phenomenon.
5. Woundless, will not influence the normal working and living.
Technical advantages
1. Painless treatment focus RF energy at the correct position, compared to other radio frequency technology.uses low energy and high frequency, safe and effective.

2. Aim at the skin surface and deep location, using a complex method to control the different currents and energy,direct access to the different skin layers, the effect is visible

3. Selectively targeting fatty tissue, to avoid heating other fat, to achieve the fastest treatment effect

4. With the most useful 40kHz ultrasonic cavitation system

5. Color touch screen
Working handles
1. 40KHZ ultrasonic cavitation for deep fat.
2. Multipolar RF for body and surface fat
3 tripolar RF for fat reduction
4. bipolar RF for face and eyes
5. 8-polar with vacuum sucktion
Eyes: removing black eye rim, pouch and wrinkle of eyes;
Face: promoting,whitening and making skin tender,wiping off scar;
Body: losing weight effectively,removing striae gravidarum and tightening flesh;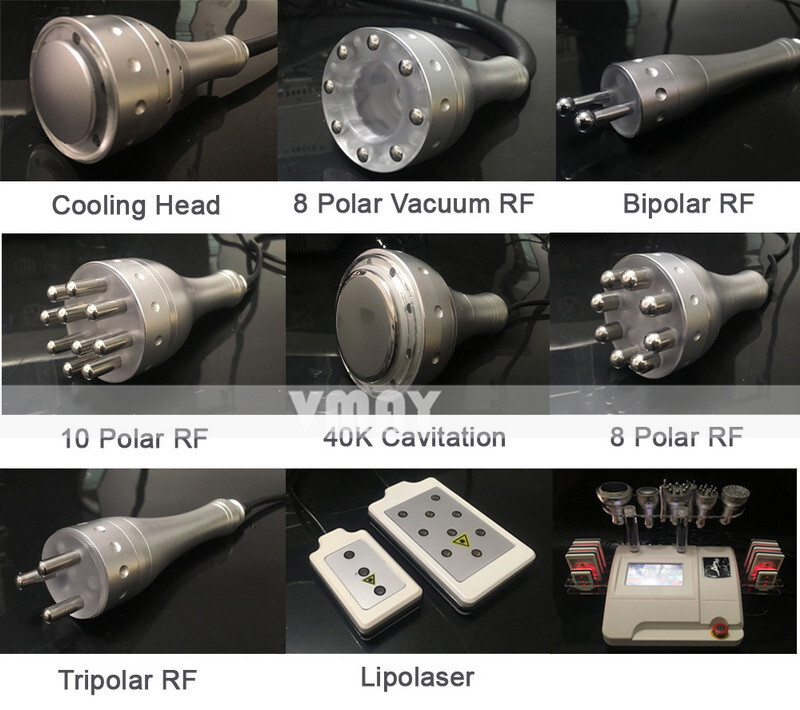 Machine photos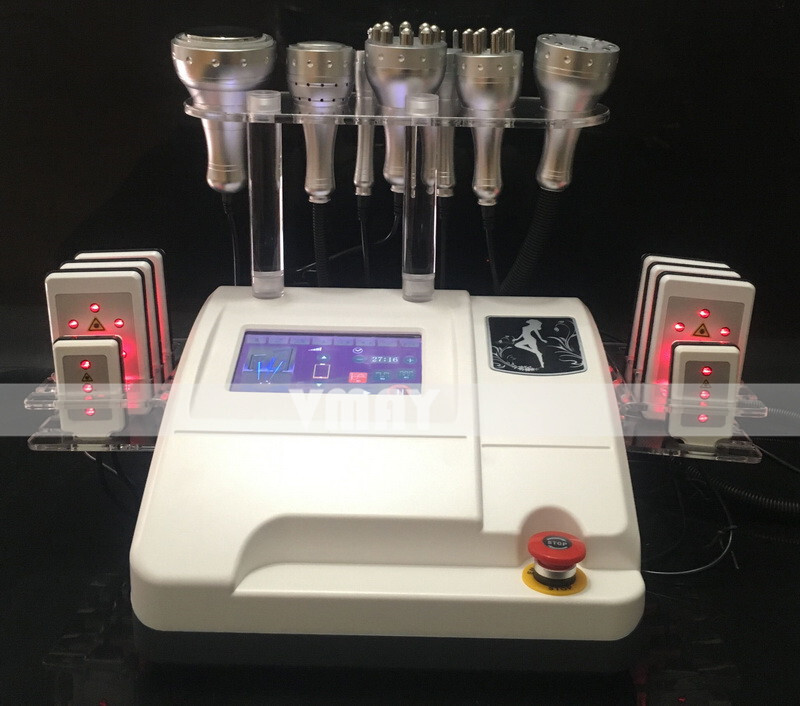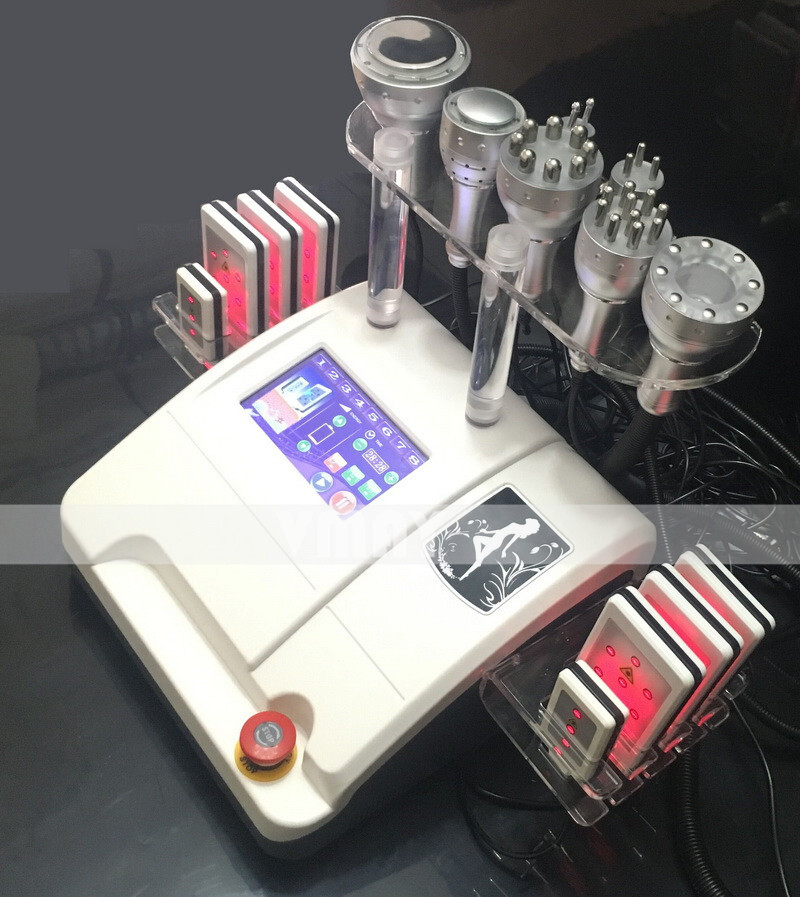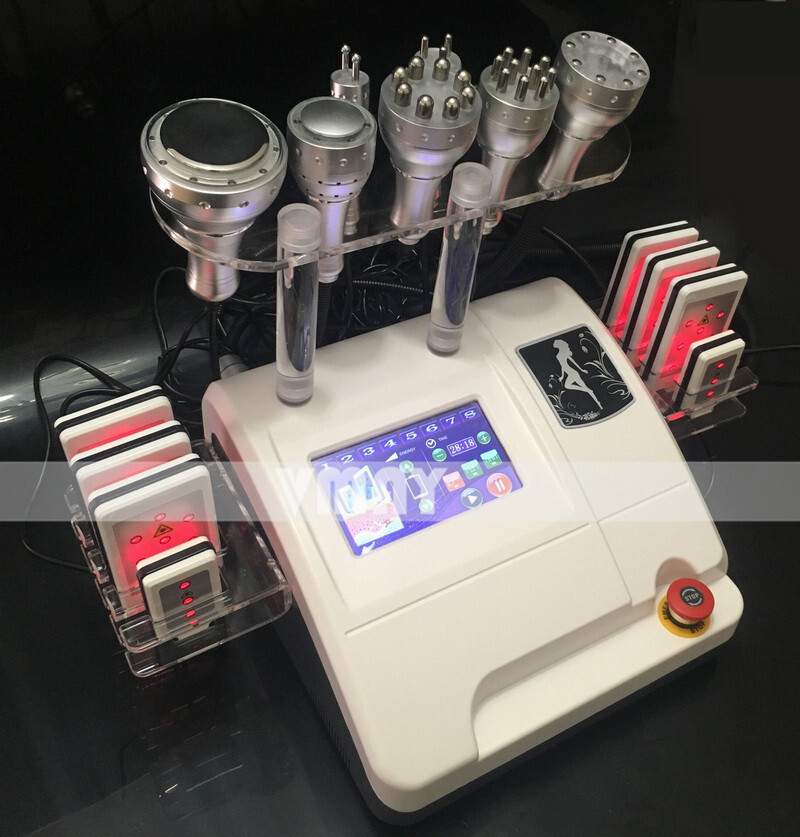 Working therapy:

Cavitation,RF,Vacuum, Lipolaser
Power:

≤150W
Eight Handles:

ultrasonic cavitation,bipolar RF,tripolar RF,8-polar RF,8-polar with vacuum sucktion,10-polar RF, cooling head,lipolaser
Cavitation:

40Khz
Vacuum:

Max 100Kpa
Ultrasonic output:

40KHZ
Lipolaser Pads:

8 Pads
Lipolaser:

635-650nm
Cooling head:

-10℃-10℃


Your cart is currently empty.