Far Infrared Electric Microcrrent EMS Muscle Stimulation Body Slimming Machine With Micro Current BIO Skin Tighten
Far Infrared Electric EMS Muscle Stimulation Machine With Micro Current BIO Skin Tighten

Product Description
1. Electronic muscle stimulator massage machine ,
2. Physical therapy & Electode-fitness & BIO- Microcurrent
3.Massage , muscle relax,weight lose , lymphatic drainage ,Fitness
4.Facial and body for treatment
Working theory
Low frequency body shaping instrument realizes losing weight, body shaping and breast care by stimulating points and muscle tissues with the help of low frequency. It is a combination of Chinese ancient acupuncture and moxibustion therapy and Western precise anatomy. With latest and safe modern scientific bioelectric therapy, this machine is ideal for perfectionists who pursue excellent figure.Instead of emphasizing losing weight illusion by liquid eduction and muscle deformation by the pressing of body shaping wear or bands, the machine realizes losing weight by placing electrode pads on parts with thicker muscle tissues such as waists, bellies and thighs to make muscle exercise and restore flexibility with the help of low frequency.In a word, with low frequency`s stimulating on points, metabolism can be improved and exercise of body parts can be accelerated to ensure losing weight and firming up muscle without repetition.
Function

1. Electric muscle stimulator breaks up fat and strengthens, tones and firms abdominals, glutes, legs arms and handles.
2. weight loss, inch loss, muscle toning.
3. Improved circulation, toxin elimination increased metabolism and lymph drainage
4. Speeds up the repair of muscle fibres and remove lactic acid, drastically reducing muscle soreness
5. One 60 minutes session can burn up to 1,500 calories
6. Skin tightening and puffiness relief
7. Water retention and puffiness relief
8. Reduce cellulite, firms and tones your body
9. Enhances well-being, relieves muscular pains
Technical advantages
1. with 9 groups of electro pads with infrared, 1 set BIO-single stick,1 set BIO-Double round head stick, 1 piece BIO stick for face lifting,
2. 8 varieties of independent waveforms of low frequency to enable muscle do different forms of exercise
3. Due to excellent circuit board, all the pads can keep working with max engergy for a long time without any pad out of control
Cautions
1.Don't place pads on injured skin or infected muscles.
2.Don't place pads on the recent surgery scars(within 10 months).
3.Don't place pads on stomache after food within 1 hour.
4.Don't use this device on heart problem patients.
5.Don't use this device on serious sick people of stomache,liver,entrails and vesical calculus problems.
6.Don't use this device on epilepsy people or alcoholism people.
7.Don't use this device on pregnant woman.
Specification
| | |
| --- | --- |
| Voltage | 220v or 110v/50Hz-60Hz |
| Technology | microcurrent muscle stimulator, BIO,Galvanic, infrared |
| Power | 100W |
| Width of pulse | 100μS~500μS |
| Shrink time and loose time | 0.1S~5.0S |
| Pads | 9 pairs with infrared warm |
| Output voltage | 24V |
| Functions | face lifting, anti aging, skin tighten, body slimming, weight loss |
| GW | 11KG |
| Package size | 55*36*26CM |
Machine photos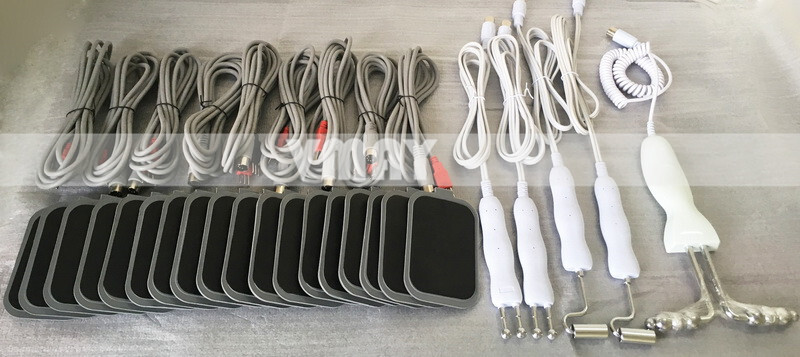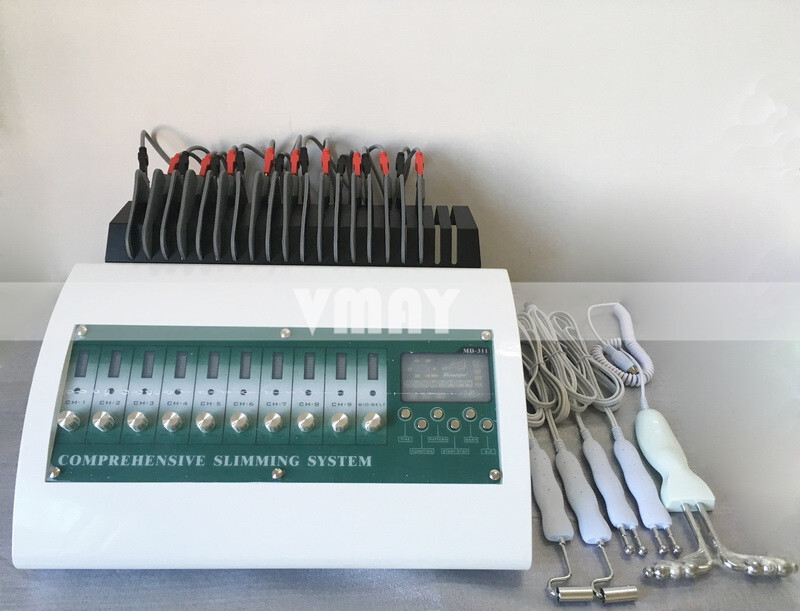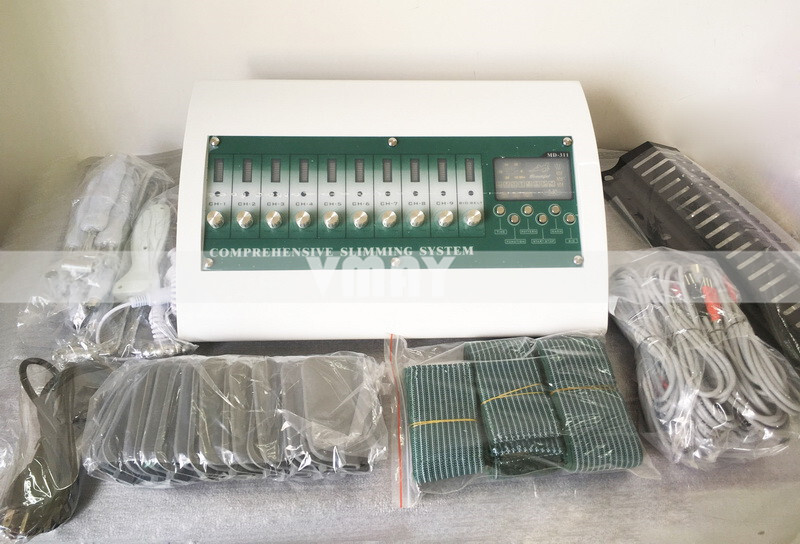 Voltage:

110V/220V 50Hz/60Hz
Power:

100w
Accessories:

9 electro pads + BIO
Currenty:

24V
GW:

11KG
Package:

55*36*26cm


Your cart is currently empty.